| | | |
| --- | --- | --- |
| | NORTH AND NORTHWEST, Introduction | |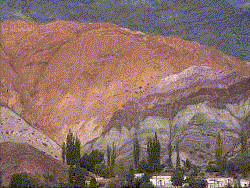 Argentina´s north and northwest cover the provinces of Tucuman, Salta and Jujuy in the north, and La Rioja and San Juan in the northwest. Only some selected sites covering this area "where America talks with the sky" have been included here for the time being. There is much more to discover on your own browsing through the sites included under Links.
This is a very special part of Argentina, strongly picturesque in landscapes, remarkably poor in living conditions, but where you get in touch with wonderful and special people living in a unique environment. If you are planning a visit you should take at least 3/4 days for the north only, and perhaps at least 2 or 3 additional days for the northwest. One full day is needed for Humahuaca, one full day for San Antonio de los Cobres high plateau and its "Train to the Clouds" (operating on Saturdays), a 14 hs trip starting in Salta and reaching a height of 4200 mts above sea level. Salta´s town and its treasures should not be missed and at least half a day or a whole day left to enjoy it.
If more time is available you can start in Tucuman, visiting the upper Calchaqui Valley, Cafayate (and savor its wines) historical Tafi del Valle, 18th C town of Cachi, and others, and if you care for adventure search for the "Movi track" on your way to the Puna. Thrilling! Search for information about the Quilmes Indians, colourful Purmamarca, cultural Tilcara and its artists, artisans and painters, hidden Tumbaya, and more.
And if you love desert rocks and canyons million years old include the northwest and visit Talampaya and Ischigualasto.
There is detailed information on all the places mentioned above under What to see link, but do consider that this area is a must for visitors searching for unique places. As mentioned this is a a very special area. We love to talk about its immense beauties but tend to forget that living conditions there are very poor, as this is a part of our "silent" population, perhaps too low in number for being representative or meaning vital support in elections. But absolutely worthy to know it. I am sure you´ll enjoy it.
And again here, do not miss Bonnie Tucker´s articles in The Buenos Aires Herald. Enjoy her lively clear, knowledgeable comments.