IGUAZU FALLS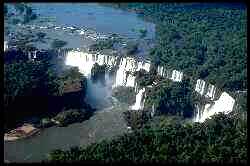 Iguazu Falls is a magnificent (up to 80 mts high) array of 275 waterfalls, located in the northwest extreme of the red soiled sub tropical jungle province of Misiones, 1400 kms form Buenos Aires and surrounded by the lush vegetation of the Iguazu National Park, which protects over 2000 flora species and 400 bird and wild animal species. .
Two thirds of the falls are within Argentine limits. Again I warmly recommend visiting both sides (Brazilian side has a closer view of what in fact are Argentine falls). After the Parks were privatized many things have changed, some for good some for bad, (for adventurers) but there is now order and greater care of environment, some freedom of movement has been secluded and directed, (inferior and superior walkways once wooden have now been rebuilt in galvanized slip proof metal grate) and it will now be almost impossible to escape form the trail to pick flowers, fall into the water or be bitten by a snake.
Those of us who have been there before, do look back in a bit of nostalgia, but something had to be done and now the whole project aims at preserving the ecosystem and it would seem that even the noisy and irritating helicopter services over the falls, operated from the Brazilian side, have been reduced to a minimum. And they say that the environmental interpretation center is one of the best innovations of the whole project, a rich display of information.
Throughout the near jungle-like surroundings there is magnificent flora, exotic birds and butterflies. No need to do any special excursions on the Argentine side. You can just walk along the pathways, take your time and enjoy. You might even venture to walk down the road from the hotel to the boats that take you out to the the Devil´s Throat. Be sure to take waterproof ponchos, you get soaked from the spray. Waterproof cameras will save your good one from damage.
The hotel, now belonging to the Sheraton Group, was designed in 1970 and it was frankly needing refurbishing. All the rooms were completely redecorated and refurbished. Menus change every 3 days, there is a buffet and a la carte restaurant, as well as a gourmet restaurant. The hotel guests can visit a Guaranė Indian village and learn how its inhabitants survive in the jungle by living with nature, or visit the amathyst mine (a visit, buy and take excursion) and also see yerba and tea plantations on the way to the 17th century San Ignacio Jesuit ruins (recommendable). Taking the Gran Aventura falls boat and jungle safari excursion is simply fascinating, going rafting is only for the daring and experienced. Hiking, biking and birdwatching tours are also available. And besides all these bounties, which could turn into a several days absolute relax, imagine sitting on the veranda having breakfast, chating with friends in the afternoon, falling asleep with the distant roar of soothing falling water....... A room with a fall view is just a superb option. And I am sure you will not be disappointed.
Some new attractions have now been added in Puerto Iguazų. There is a new Bird Park. You enter an enormous cage in which some birds are flying about and others are in smaller cages. But I wonder whether this means preserving nature....
A good way to explore the hidden Jungle is driving in four wheel specially equipped vehicles along the different paths that have been opened with this objective. On the Argentine side you reach the Yacaretea path and travel along 7 km through the heart of the jungle until you arrive at Macuco Port. Another road specially designed for photographic safaris and bird watching is the Macuco Path on the Brazilian side.
THE MOCONA FALLS
These are 3 km up to 20 mts height falls on the Uruguay river. 4x4 excursions can also be made here across the jungle as well as horse riding and photograhic safaris. Nearest town is El Soberbio at 86 km