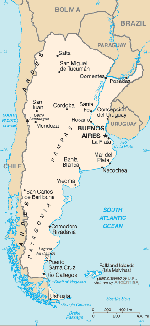 Location, area and frontiers : Argentina (from the Latin argentum, since 1860 called Republica Argentina (Argentine Republic). It is the second-largest country in South America (after Brazil); its continental area covering almost 3 million sq km, located in southern South America, bordering the South Atlantic Ocean, between Chile and Uruguay, and north Brazil, Paraguay and Bolivia. Argentina has been claiming the Islas Malvinas (or Falkland Islands), without success. Total of land boundaries are 9.665 km. Bordering countries: Bolivia 832 km, Brazil l.224 km, Chile 5,150 km, Paraguay 1.880 km and Uruguay 579 km.
The Atlantic Coast is 4.725 kms long. The longest road is the beautiful Route 40, extending all along the Andean cordillera, from north to south.
Geography and other features : Argentina is a land of contrasts, varied geography and geology, Cerro Aconcagua is South America's tallest mountain, while Laguna del Carbon is the lowest point in the Western Hemisphere. We have an immense richness of natural resources, extensive central plains, a majestic mountain range, plateaus in the northwest, lakes, forests and glaciers in the south, waters in the northeast. Rich in resources of all kinds not available elsewhere, we are fortunate to have plenty of water reserves, pure, clean air (out of big towns), immense open spaces scarcely populated (pampas, patagonia, plateaus, marshes), uncontaminated beef (grass grazed animals), green forests (northeast and southwest), fresh fruit and vegetables of all sorts all the year round, plenty of sun and mainly good weather. These generous resources are, unfortunately, not always available equitably, but we have learnt a lot during these past years, and continue striving with mushrooming NGO´s and a growing number of population willing to help.
Climate : due to its size, geographical location and altitudes Argentina presents climatic characteristics that greatly differ from one region to the other. For detailed and specific info please click on http://www.meteofa.mil.ar/ (unfortunately only in Spanish, but our official weather website). You can also search under: http://www.free-weather.com/Argentina.php?nav= and http://www.weatherhub.com/global/ar.htm
Currency: The official Argentine currency is the Argentine Peso. Exchange rates : Argentine pesos per US dollar - between 2.900 and 3.000 (2005), 3.0633 (2002), 0.9995 (2001), 0.9995 (2000), 0.9995 (1999)and there are notes of 5,10,20,50 and 100 pesos and coins of 1,2 and 5 pesos and 5,10, 25 and 50 centavos.
Government Argentina hsa been an independent country throughout the 20th century. The country is a federal and democratic republic (executive, legislative and judicial powers). We are a "federal" country even though sometimes it would seem everything is happening in the city of Buenos Aires (capital of Argentina). With a new government and a President coming from the extreme south, things might have changed. Not much has happened, as yet if we consider (51.7% (May 2003) population below poverty line and an unemployment rate of 17.3% (2003). We must admit this government inherited a country in disarray and that statistics are partial and complex. Historically Argentina was closely connected to Europe, opening to the rest of the world only after WWII, lately looking elsewhere.
Language Spanish is our official language, English probably becoming our second (globalization pushing).
Population and cities: Argentina is divided into 23 provincias (provinces - divisions) and a federal district (Ciudad Autonoma de Buenos Aires) our "Capital". Out of a total of 39,144,753 (July 2004 est.) million population, almost half live either in the Federal Capital or in the province of Buenos Aires (and those who can afford it, are trying to move to the greener suburbs, just like in any other big city) . Density is 13 inh/km2, 85% of population living in cities. Buenos Aires is followed by Cordoba 1,2 million, Rosario (industrial) in Santa Fe is close behind, Mendoza 851.000 people (good wines and plenty of sun); San Miguel de Tucuman, (the garden city of Argentina), with 626.143, La Plata (capital of the Province of Buenos Aires) 520.647, Mar del Plata, (the "queen" of our coast) 519.797 and Salta (also called "the beautiful") with 367.099. Pure indigenous population (Mapuches, Collas, Tobas, Matacos,Guaranies, Huarpes, Ranqueles, Pampa, Diaguita and Chiriguanos) amount to an approx 0.5% of total.
Neighbors : We are still learning to accept our neighbors but continue calling them names. Paraguayans worked in the construction industry when construction was booming, many returned to their own country during the recent crisis; Bolivians produce and sell green grocery and seem to be better off here than at home, Uruguayans are our "nearest" in soul and distance. We love their beaches and choose their banks to evade local taxes, when we have no access to more remote havens, or need relative security in times of crisis. Chileans, across the Andes, are doing a great job, their economy has been flourishing for years now. Despite their political problems, they are consistent, love their country and respect their rules and policies, have diversified their economy and are pushing exports, but they have been "underming" our markets and we secretly disdain them both for their success and for our own incapability to follow suit. Brazil is our big "expansionist" brother, with huge forest reserves (irrational use of their land has caused them great harm), beautiful coast and friendly and happy people, keeping their smile in times of bonanzas and crisis alike. Brazil is the only South American country not speaking Spanish, their language being the Portuguese. Lately many of our schools have been offering Portuguese as an alternative, which is certainly a right move. Even so, with globalization moving ahead all school children should be learning at least English a la par, as the universal business language, whether we like it or not. Our neighburing Chile has adopted bilingual plans aiming at a fully bilingual education in about 20 years.
Argentina and Argentines : Argentina is populated by people who have come from all parts of the world. Lifestyle in cities is markedly more European than in the rest of South America but we have been consistently subjected to our two greatest enemies: corruption and our own incapability of finding wise and honest intellectual and political leaders. But Argentina is a young country, only discovered 300 years after the opening of the first university in Europe!. So we simply cannot expect to have it all at once. Can we? Nevertheless we should be doing something and quick to avoid our young people from emigrating to countries where their elders have come from in search for peace or prosperity. We are aware though that it is not gold all that glitters, and that there is a price to pay for everything everywhere.
Want to know more about us? When preparing this website I have come across lots of valuable links (some unfortunately only in Spanish - a good opportunity to learn the language!). You can find a selection under General Links or attached to corresponding pages. Search well and enjoy the reading, but then do come down and discover the true Argentina by yourself.