| | |
| --- | --- |
| | PATAGONIA, fascinating scenery, pristine nature.... |
ANDEAN PATAGONIA What to see
NEUQUEN
San Martin de los Andes. San Martin de los Andes is a small beautiful town, less than 30.000 people. Chapelco, one of the 4 major ski resorts in South America located 18 kms from downton. Caution: try to avoid Argentina┤s winter school vacation period, generally starting about mid July. It will be crowded and prices will be noticeably higher.
Dinosaurs in Neuquen. Paleontologists have recently discovered remains of Patagonia┤s primeval past very close to El Chocon Village. Ruben Carolini┤s discovery in 1993 of the world┤s larget carnivore, the Gigantosaurus carollinii, outside the ghost town of El Chocon is believed to be approx 100 million years old. Carolini┤s discovery was followed by other researches and now the whole place is called "The valley of the Dinosaurs"
RIO NEGRO .
Bariloche is the queen of the northern lakes region of Argentine Patagonia. A city of over 110.000 people, has been growing very fast during the past decade. Bariloche has a small casino and it is a "four season" resort,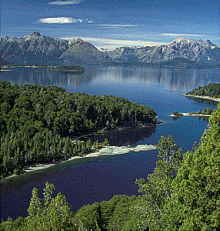 offering all kinds of accommodations (hostels, lodges and first class hotels) and assorted adventures to enjoy lakes, mountains and rivers : hiking, riding, climbing, biking, rafting, gliding, birding or simply trekking and watching. There are some classical tours (not to miss) Victoria Island and Puerto Blest, half day bus excursions to Catedral (you can also go on your own) , Mount Campanario with a beautiful view. Cerro Lopez (on a clear day on top of either peaks tourist or main, there is a beautiful view of the Andes. For adventurers there is rock and ice climbing, diving, canyoning (a survival sport involving walking up streams, swimming down rapids and scaling canyon walls), rafting (down the beautiful Manso river), paragliding (off the tops of Otto or Catedral kayaking and canoeing, or horseback riding, trekking (there are lots of self guided paths on mounts Campanario, Otto, Lopez and Catedral, in the Llao Llao area, around Lopez Bay, from Bariloche Foundation to Lopez Bay, the valley of Challhuaco and many others.
SANTA CRUZ
Rio Gallegos (founded in 1885) is the capital city of this province of 243.943 km2. Other important cities are Rio Turbio, Caleta Olivia and Pico Truncado (all associated with oil and coal)
Lago Argentino, considered one of the most beautiful

landscapes in the world, is reached either by a Buenos Aires/Rio Gallegos flight combined with a bus ride or a Buenos Aires/Calafate flight or to the new airport of Calafate direct. Calafate is 85 kms from Lago Argentino. A minimum stay should include Lago Argentino and the Perito Moreno Glacier (one of the few surging glaciers) taking the time to enjoy listening the icy mass thundering down into the lake, strolling along the path with different views of the glacier, trekking on the glacier itself, or sailing around the Uppsala, Onelli, Agassis and Spegazzini glaciers. If you are looking for further adventure (and there is plenty) find information about short or longer (6 days 5 nights) horseback rides on glaciers. And if you feel like doing something special, guided by top experienced glacier connoisseurs, please get in touch with me and I┤ll be glad to make contacts. While in the town of Calafate pop in at the Secretaria de Turismo for info and instructions. They will be glad to give help and advise.
El Chalten (300 people) is the youngest mountain Argentine town near

the absolutely fascinating Fitz Roy (3405 mt), a difficult mountain attracting yearly a a great number of mountain climbers coming from all parts of the world. Located 240 kms from El Calafate it is known as an important trekking area and the gate to continental glaciers.
TIERRA DEL FUEGO and further south
Ushuaia. Is the southernmost city of the world, from where

it is possible to start an excursion to the white world of Antartica. But Tierra del Fuego itself has beauties of its own in its colourful ˝ires and lengas forests contrasting with the mountains behind.